Graduating more than a decade, there is a lot of nostalgia when remembering…BVU
Ho Nhat Quang – BVU Alumni of Accounting major, is currently the Chief of Finance and Accounting Department of Hai Duong Co., Ltd., as well as the Director of PPL Trading and Service Joint Stock Company.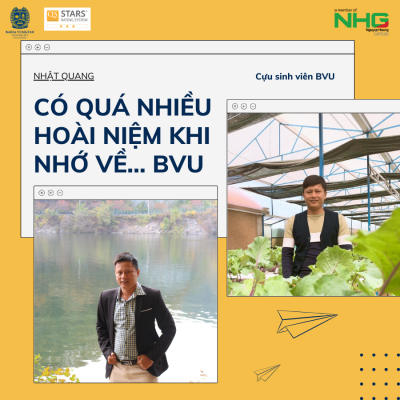 I was a student who came to Vung Tau city 15 years ago. And I still vividly remember the feeling of taking my first steps in the BVU lecture hall.
It was really tough to get into university at the time, so when I found out I had been accepted, the sensation of greatness was impossible to put into words…
My experience at Ba Ria-Vung Tau University was memorable and wonderful.
It makes me smile to think about the past. Aside from academics, I used to tutor, support weddings, and join clubs and organizations… Life can be challenging, yet lecturers, students, and friends always love and care for one another.
Like many students, I was astonished on the first day of graduation…!
However, thanks to the knowledge I learned at BVU, I began to hunt for ways to achieve. The most pressing matter for me was to find work. This job might not bring too much money, but it allowed me to study, develop practical knowledge, comprehend, and apply what I've acquired through education to actual situations.
The most essential thing to remember is to not feel ashamed. Criticism from coworkers and "boss" must be interpreted as an impetus to change, progress, and become better.
It's too much nostalgia to recall after graduating for more than ten years….
"Always try your best and never give up," advising to the following students, who represent as a strong generation of BVU students with big dreams. "There is no simple way to obtain success; it must be earned by hard effort, sweat, and tears…
I wish you the best of luck and remind you to treasure your time in university since these will be great memories that you will carry with you for the rest of your life."