What is Banking – Finance?
Finance – Banking is an incredibly broad discipline dealing with financial and monetary transaction services, money circulation, and market operation through credit institutions and financial enterprises worldwide. Banking and finance is the exchange of money through financial institutions, commercial banks, and commercial bank-issued financial instruments.
Students majoring in banking – finance will have basic to advanced understanding of corporate finance, corporate financial management, project financial evaluation, and report analysis for corporate finance, credit management. They will be provided with specialized knowledge in capital mobilization, management, and use of funds, knowledgeable about state regulations on business management, banking tax legislation regulations, currency, capital, and asset management, knowledge of currency issuance, credit term appraisal.
Studying Banking – Finance, students will gain professional knowledge and skills:
Specialized knowledge: Students can understand currency, finance, banking, and the operations of commercial and state banks. Non-banking financial institution business activity and understanding of corporate financial activities:
Learners acquire expertise and abilities in commercial banking operations such as capital mobilization, credit analysis, credit issuing, payment through bank, international payment, foreign exchange business, and so on.
Learners have knowledge and apply knowledge of corporate finance, corporate financial management, investment project assessment, and financial statement analysis of a company.
Students can understand securities and the stock market, as well as securities analysis and investment, brokerage operations of securities companies, investment fund management skills, and so on.
Skills: Apart from specialized knowledge, learners are also instructed in abilities such as:
Learners can handle consumers' loan applications, process documentation, and account for emergent economic activities in banks.
Learners are able to read and comprehend commercial financial statements.
Learners are capable of establishing, evaluating, and managing enterprise investment programs.
Learners can read and write international payment contracts of import and export businesses.
Learners are able to access bank transaction software while working, as well as read, comprehend, process, and create papers.
Learners are capable of utilizing office computers to create paperwork, contracts, and reports.
Learners can work individually and develop culture of communicative behavior, cooperation skills, and public speaking capacity.
Learners can converse in foreign languages specialized in finance and banking, as well as grasp and know financial and banking terms while reading financial statements from international firms.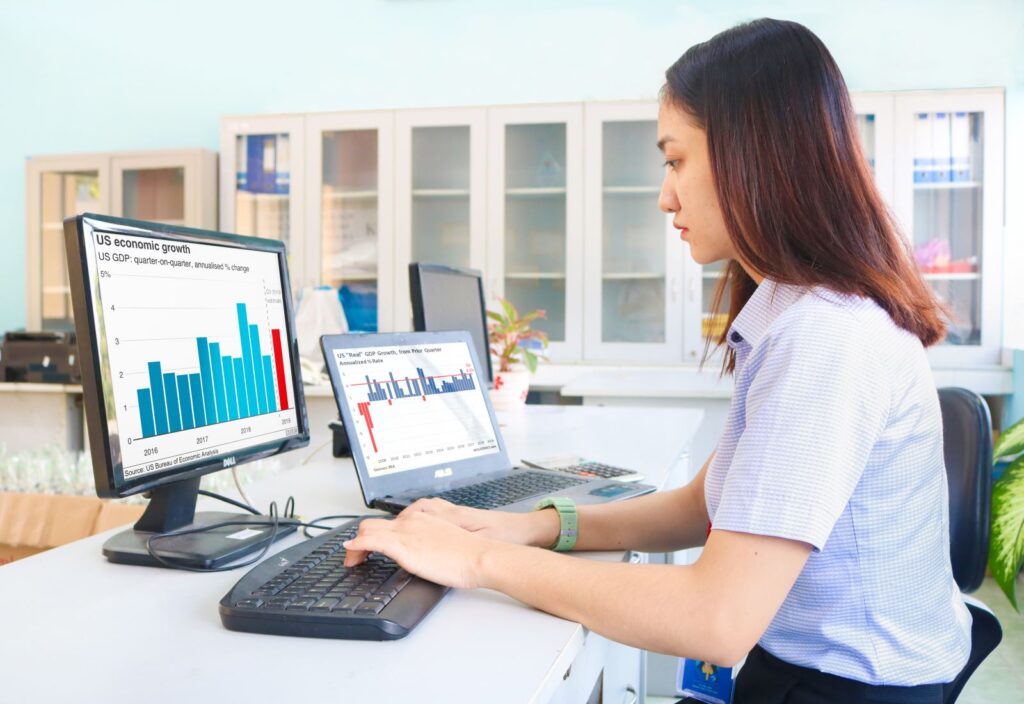 Ba Ria – Vung Tau University fulfills all training aspects, from degrees to lecturers, teaching approaches, and processes, regularly connecting with specialized seminars with the participation and sharing of speakers who are Business Leaders, Banks, Senior Financial Experts, and others, creating a connection channel for internships and job opportunities for the university's students. This validates the quality of training and career chances for students at Ba Ria – Vung Tau University in general, and students of Finance – Banking in particular.
Do Thi Bich Hong