The Vinhelm hat helped three students in receiving the World Intellectual Property Organization's designation of Intellectual Property Ambassador.
2021 is expected to be memorable year for more than 24 million students across the country. Never before have Vietnamese students had to stay at home for extended periods of time, limit their social activities, and cannot go to school entirely, as they have this year.
It is also during this challenging period that a new generation of digital citizens has emerged, owing to the rapid advancement of technology. Gen Z has used their youth to create technology products that have a global impact.
In the evening of January 3, VTV's 7pm News outlined three students' significant accomplishments, including:
Do Trong Minh Duc (born in 2003, student of Montverde Academy, Florida, the U.S.)
Tran Nguyen Khanh An (born in 2006, grade 10, Dewey Schools, Ha Noi)
Nguyen Hoang Phuc (born in 2007, grade 9, Lycée Français Alexandre Yersin, Ha Noi).
These are the inventors of the Vihelm "portable isolation hat"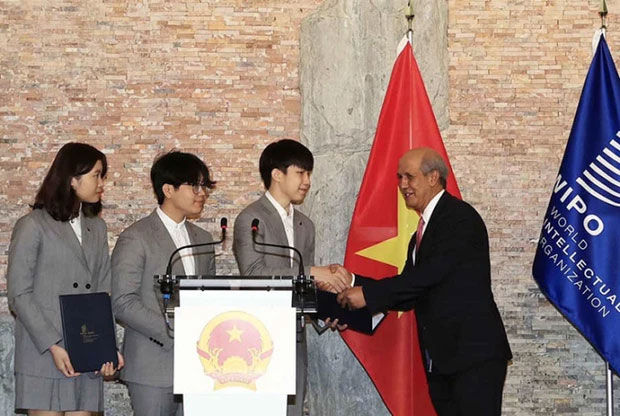 3 students were awarded the title of WIPO Intellectual Property Youth Ambassador
With this creation, all three students have been named WIPO Young Ambassadors of Intellectual Property by the World Intellectual Property Organization (WIPO) in Geneva, Switzerland. This is the first time WIPO has given this title in the Asia-Pacific region, and just the second time in WIPO's 50-year existence (founded in 1967).
Vihelm helmets are built on the PAPR mask's operating concept, filter the air with globally recognized standards, and are 100 times safer than N99 masks. Vihelm hats have been registered for intellectual property rights in Vietnam and are protected globally, as well as being recognized by the Ministry of Health of Vietnam as satisfying Group A requirements and being authorized to circulate on the market… This is regarded as a positive move. A breakthrough in avoiding the impacts of the Covid-19 outbreak on people's wellbeing.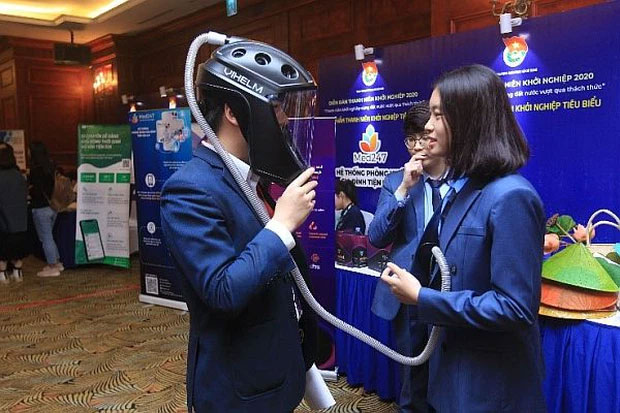 Students with their invention at Techfest 2020. (Photo: Techfest 2020).
According to khoahoc.tv