According to an assessment of the development rates of the provinces and cities in the Southern Key Economic Zone, Ba Ria – Vung Tau is a region that strongly draws international investors, particularly because the province has several advantageous policies for enterprises in industrial zones. As a result, finding high-quality human resources remains a challenge in order to keep up with the pace of economic development.
The economy of Ba Ria – Vung Tau has always grown substantially.
Throughout the last five years, the economy of Ba Ria – Vung Tau has consistently maintained growth, confirming its role as a substantial growth pole in the country. The economic structure has evolved in the correct direction; the GRDP (Gross Regional Domestic Product) scale ranks third in the country, and it is consistently one of the top provinces in terms of budget contributions. GRDP excluding petroleum and gas climbed by 6.10% each year on average. In 2020, the GRDP excluding petroleum and gas per capita will be $6,940 USD/person/year.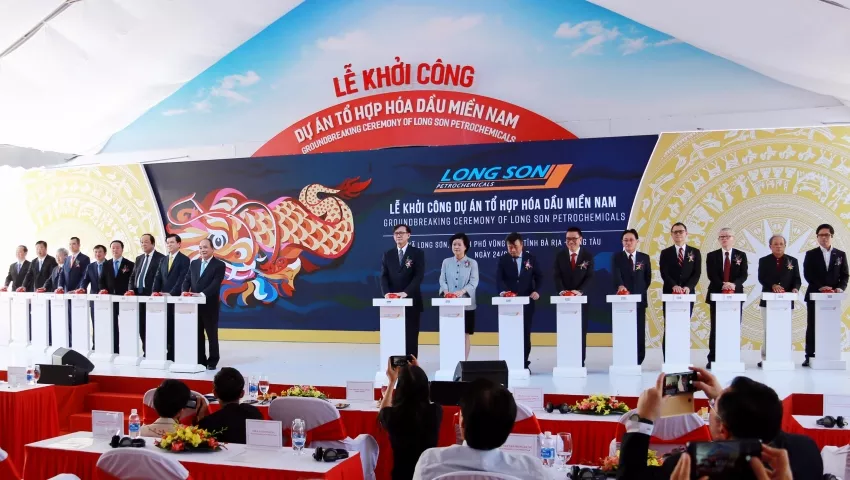 Prime Minister Nguyen Xuan Phuc attended the groundbreaking ceremony of the Southern Petrochemical Complex Project in BR-VT province (Picture – Petrotimes)
The value of industrial production rose by 8.36% on average every year. The harbour system has changed dramatically, and port logistics services have been invested in with favorable outcomes. Service sectors have become more diverse, of higher quality, and better able to satisfy the requirements of society. Export markets are enlarged, and export turnover has increased significantly, reaching 22.1 billion USD. Agriculture is concentrating its efforts on technological advancement. The new rural building initiative has resulted in noticeable improvements in rural communities.
The investment and business conditions has improved. The apparatus's dynamism, transparency, and efficiency in dealing with investors and enterprises are enhanced. Overall social investment capital reached 233,162 billion VND. The number of firms expanded by 49.3%, contributing to the budget by 55.11% and providing jobs for 119,806 people.
(Source: http://baochinhphu.vn/Hoat-dong-dia-phuong/Ba-RiaVung-Tau-tiep-tuc-khang-dinh-la-mot-cuc-tang-truong-quan-trong-cua-ca-nuoc/408447.vgp)
High demand for highly qualified human resources
Mr. Duong Thanh Khang, Deputy General Director of Thi Vai General Port Joint Stock Company (Phu My Town), claimed that logistics workers are now in short supply in Ba Ria-Vung Tau and the Southeast regions. Every year, there are recruiting demands and several preferential regimes in place to attract high-quality human resources. Simultaneously, the company collaborates with colleges, notably Ba Ria – Vung Tau University, to advise and promote study programs that are market-driven, as well as to generate opportunities for students to practice and work after graduation. Yet, it is still unable to fulfill the company's development demands as well as the regional logistics recruitment market.
According to Ba Ria – Vung Tau province's annual statistics, the province has a recruitment demand of approximately 1,500 out of a total of around 30,000 job positions in the year, which is a high-quality labor force, specialized labor positions that serve contractors for construction projects at Cai Mep port, Long Sn Petrochemicals -LSP, and others.
The report on labor recruitment demand of the Employment Service Center (Department of Labor – Invalids and Social Affairs of Ba Ria – Vung Tau province) shows that occupational groups have great recruitment demand with high salary, which currently are: information technology, communication – advertising, marketing, architecture – construction engineering, technology – engineering, operating management, finance – banking, import and export, border – translate. Industries that tend to attract human resources can be mentioned as: Information Technology, Mechanics, Electrical, Automation, Automotive, Petrochemicals, Food Technology, Logistics, Tourism – Hospitality, Accounting, International Business, Law, English, Japanese, Korean, Nursing, Pharmacology, … with an average salary of 15 million VND or more.
The only multi-disciplinary university in the province of Ba Ria-Vung Tau
BVU presently includes 46 diverse undergraduate majors and specializations, including Pharmacology, which was recently approved by the Ministry of Education and Training. Currently, BVU is the only university in Ba Ria – Vung Tau province that offers multi-disciplinary and multi-field training under the Ministry of Education and Training.
BVU has a contemporary curriculum that is kept up to date with the most advanced trends in domestic and foreign institutions, as well as a team of lecturers who are leaders, economists, business managers, and so on. As a result, the setting at BVU is constantly open, with companies actively participating in the University's training process.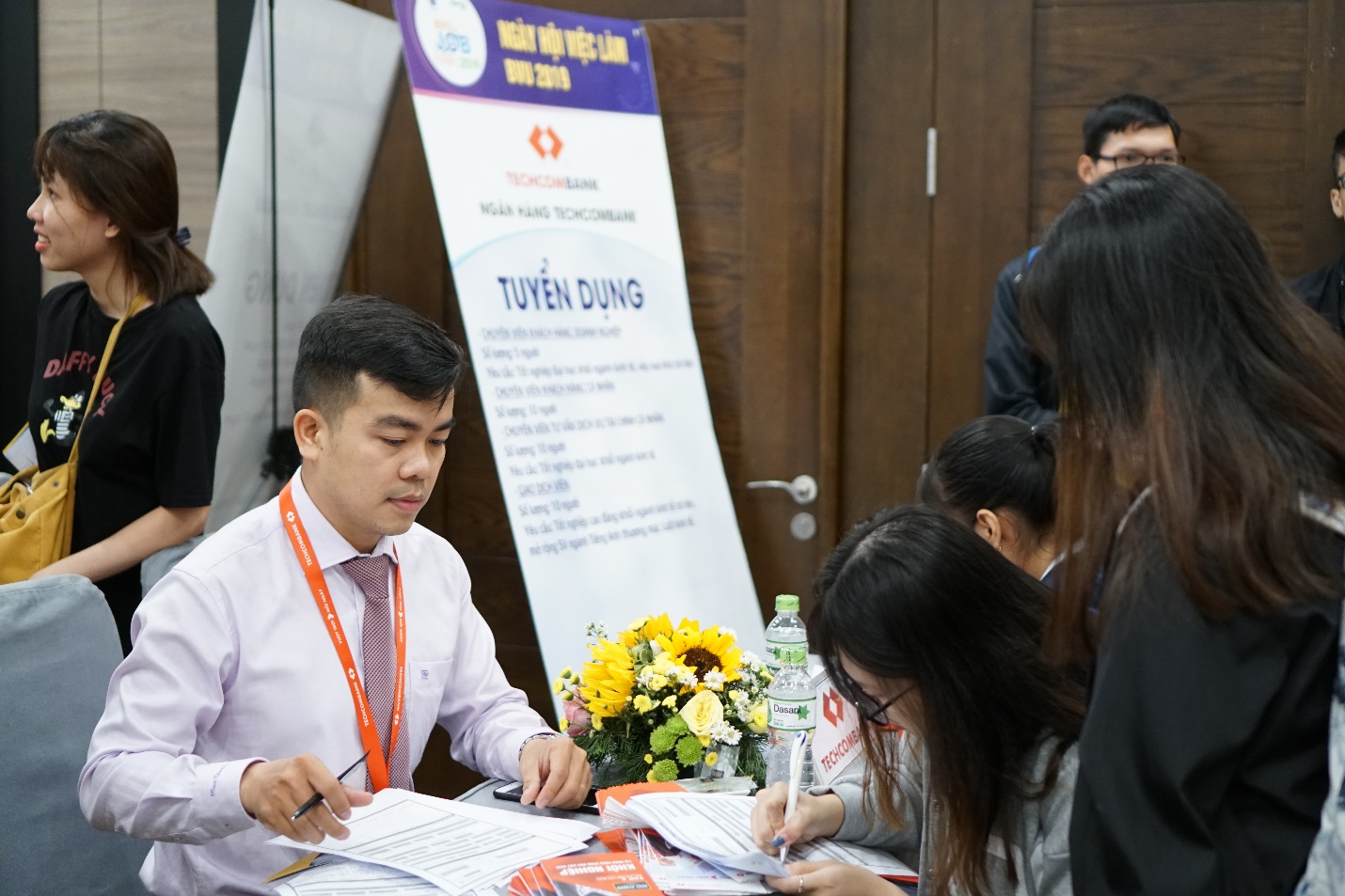 Enterprises recruiting BVU students tại Ngày hội việc làm
When asked about the BVU interns, Ms. Phan Nhat Linh, Deputy Sales Director of the Pullman Vung Tau hotel, said, "This human resource is always full of potential and potential, because when studying at school, students are familiar with the professional and creative environment that the lecturers have conveyed in a new way. Ba Ria – Vung Tay University students are exceptionally adaptable and creative in adapting to situations assigned by the intern manager."
BVU not only creates circumstances for students to practice and experience in domestic firms, but it also connects students with opportunities to practice in Japan, Korea, and other developed nations.
More than 95% of BVU graduates get  work immediately after graduation. Several BVU students are hired directly following their internships and offered the option to work while completing their courses.